INTERIOR LAKE FISHING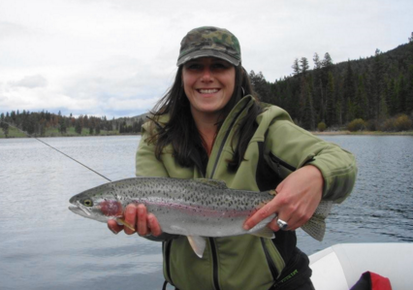 Len's Sportfishing Adventures provides incredible fly fishing packages for trout in the interior of British Columbia.

From camp-out trips, to our exclusive fully equipped three bedroom cabin, our interior lake trips include renowned licensed still-water guides who guarantee 100% attention and guidance to our guests.

Regardless of fly casting experience or familiarity with still-water angling, our guides ensure that our guests maximize their time on the water to the fullest. Allow us to provide you with all the gear, flies and boats that you'll need to maximize your time on the water. Prime times on this fishery are May to July and September to October. At our cabin in Kamloops, BC, our guests learn the basics of entomology (the lifestyles and habits of insects), where they gain better understanding of which flies are most efficient for the surrounding hatches.

Whether you are new to the world of lake fishing or are an experienced fly fisher, we can provide you with a great angling adventure. Our lake fishing trips are a minimum of two days and they include all necessary gear/boats, guides, accommodations, transportation & meals.

Trout Diet
It's no secret that British Columbia's interior lakes are home to some of the largest rainbow trout in the world. Some weighing in at over fifteen pounds, one has to wonder what these fish could possibly be eating to make them so big. Don't look any further, here is a simplified version of a trout's diet.

Scud/Shrimp
The shrimp (commonly referred to as the scud) inhabits many of B.C.'s interior lakes. Darting through the shallows in search of settled plant and animal matter, this tiny green creature can reach lengths of up to one inch, providing a rich and healthy diet to rainbow trout. Shrimp live close to the lake's bottom, preferring shallow depths where they can often be found hiding under rocks, logs and weeds. When the fishing is slow, a shrimp pattern can prove extremely effective when fished close to the bottom along the shoals and edges of drop-offs.

Shrimp swim in short spurts of five to ten inches, then rest momentarily, settling downward in a curled position. This 'stop and go' action can easily be mimicked with short, steady strips of five to ten inches before pausing 2-5 seconds and stripping again. Ensure the fly stays close to the bottom by using a slow to medium sinking line and a long tapered leader.

Chironomid
The chironomid (commonly known as a midge or buzzer), is of extreme importance when it comes to the diet of stillwater trout. When the chironomids are hatching, it can be certain that there is a mass feeding frenzy occurring in the water's depths and, when dialed in, double digit days are not out of the ordinary.

Although the Chironomid is an insect that undergoes complete metamorphosis (maturing from egg to larvae to pupae to adult), there are two stages of the chironomid's life that the angler focuses on; the larval and pupal. The chironomid larva (blood worm) is a small worm-like organism that seeks refuge in mud tubes and vegetation along the lake's floor. Upon leaving this safety, these 'worms' are sought after and heavily prayed upon.

The chironomid pupae is without a doubt the most prominent of the trout's feeding cycle. Late morning through to late afternoon is when the pupae become most active. Gas pockets keep the nymph buoyant as it squirms and undulates in a 'stop and go' swimming motion, ascending upward, pausing only momentarily to take a periodic rest stop. It is at this point that the trout partake in a feeding frenzy Colours range in shades of brown, grey, green, red and black.

There are a number of ways to fish both larvae and pupae. Perhaps the most popular setup is a floating line and long tapered leader (sometimes up to 30 feet, depending on the water's depth), fished under a strike indicator. Attached to the end of this leader is two feet of fluorocarbon with a split shot pinched directly above the knot. For those who prefer a more 'hands on' approach, a slow retrieve without an indicator can also be highly productive.

Mayfly
The mayfly hatch is a truly wondrous experience. With tented wings dressing the water's surface, these elegant bugs trigger a trout's appetite and provide a 'meaty' morsel. The mayfly is prayed upon both in its nymph and adult (dun) stages, hatching primarily between the months of May and June. Nymphs take shelter in vegetation, weed beds, and in the cracks of rocks and organic debris. They are active swimmers and are most vulnerable as they swim to the surface, preparing to hatch. If the nymph is successful in it's ascend, it then crawls out of it's nymphet skin, where it requires some time to dry it's wings before preparing to fly away, again falling victim to it's predator.

Even when the mayfly is in its final moments of life, it isn't safe. Upon laying their eggs, the females fall dead atop the water, wings laid flat (these spent females are referred to as 'spinners'), where their lifeless bodies are eaten by fish and birds. Fishing duns and spinners require careful presentation inclusive of long leaders, fine tippets and realistic dry fly patterns. Casting gracefully and landing gently, the fly is given natural action as it is wind-drifted.

Sedge/Caddis Fly
The sedge is a moth-like insect that averages from ½ inch to 1½ inches in length, and remains this size through all of its stages as larvae, pupae and adult. Constructing a shelter made from old snail casings, rocks, sand and twigs, the sedge is a 'case builder' and carries this home with it as it scours the lake bottom in search of food. Sedge larvae can be found in weedy zones, and are susceptible to being eaten as they leave their shelter, looking to upgrade. As the pupae matures, it eats away most of it's case and makes it's way to the surface, becoming increasingly vulnerable, as it is easily seen by fish.

Leech
On a quiet, early morning, row around a calm lake and one can almost be certain to find little black ribbons dancing through the shoals. These ribbons are the notorious leech and, as expected, they play a vital role in the diet of rainbow trout. It's the immature leeches, however, that capture the trout's attention, ranging at lengths between 1 to 1½ inches in colours of brown, black, maroon and green. Most effective during early mornings and early evenings, the leech is a promising alternative when insect hatches come to a standstill. The leech can be fished in a variety of ways. It can fished under an indicator, trolled or cast and retrieved on a sinking line. Each of these organisms will at one point or another be the focus of rainbow trout. The key is figuring out what they are eating at the time. Experimentation is a must, however, observing surrounding hatches and trout behavior can often be a dead give away. Try to include several of each pattern in your fly box.

---